America 2010 Photos and Travelogue
In August 2010 I went to America with Steve for the 3rd time.
This time we did a road trip again but instead of going cross country we decided to do a big circle which was to start and finish in Denver, Colorado.
GPS Trail
Golden
We stayed over at Manchester airport on the 1st August as we had an early flight and it was only £9! It made more sense than getting over there early in the morning. We then flew out on the 2nd and after picking up the car that evening stayed in Denver.
On the 3rd we started the trip properly, first driving to Golden so that I could go in the Spyderco Factory Outlet Shop! Having bought some Spydercos we then drove to Estes Park in the Rocky Mountain National Park passing through Boulder on the way.
Estes Park
As we entered Estes Park we stopped to take some photos of the same rock sign which we had seen back in 2002. Back then I was using an early Kodak digital camera which took truly terrible photos so it was nice to be able to point an expensive DSLR at the same scene and take the photo properly!
After checking into the Peak to Peak Lodge in Estes we had a drive up into the mountains.
Rocky Mountain National Park
Although it was August the weather was very changeable, either being glorious sunshine or heavy thunderstorms. This weather plagued us throughout all the Northern parks and it seemed as though it started to rain about 3pm every day making it hard to do much on an evening!
On the 4th and 5th we spent two full days exploring the Rockies, getting to most of the places that you can reach by car such as Moraine Park, Nymph Lake, Emerald Lake, Endovalley, Horseshoe Park and Chasm Falls.
Whilst some areas are busier than others in the Rockies it never feels too crowded apart from at the car parks. The scenery is beautiful and it's also great fun to drive around with lots of twisting forrest roads; although it would be a lot better in a decent car rather than a crap American hire car!
Wyoming
On the 6th we made a long drive from Estes Park all the way to Pinedale, Wyoming which is a bit south of the Grand Teton National Park. We had originally planned to aim for Rock Springs but decided to push on further north to save time the next day.
I have to admit this was a pretty dull day! Southern Wyoming is literally just open grass land and is very featureless. The grass just rolled on by the whole day and there was very little to see.
We did stop for our dinner at Vederoo Recreation Area though which was a boulder field that was obviously popular with rock climbers. It was nice for a walk round and broke up the day a little bit.
Jackson
On the 7th we drove up from Pinedale through Jackson Hole and Grand Teton to arrive at Yellowstone that evening.
Jackson is a gateway town and as such is one of the last big towns before you enter the parks. We stopped for a walk round and it was a really nice place. It's laid out with old fashioned wooden boardwalks and wooden awnings over the shop frontage which gives it a great cowboy feel. There are a lot of outdoors shops getting people ready for the parks as well as art and antiques shops.
It had a really nice atmosphere and I would recommend anyone heading north into Yellowstone to stop for a look.
Grand Teton
After leaving Jackson we headed up the road into Grand Teton National Park. I think Grand Teton is often over-shadowed by Yellowstone but it's a lovely park in its own right. I don't think you could spend days and days there but it's certainly worth stopping in.
We drove down the Old Mormon Road as we had read that there were some nice old buildings to photograph. I had imagined these to be abandoned but they all seemed to be people's actual houses so we didn't want to stop and stand in their front yards with tripods really!
We looped back around and took a walk along the shores of Leigh Lake and Jackson Lake. The weather was tuning stormy again but we managed some nice photos with dramatic skies before it started to come down!
It was here that the threat of bears hit home a little as well. I had noticed some bear scratches on some of the trees and was aware of the presence of bears, but as we headed down the trail people coming the other way told us that we should turn around as there was a bear on the portage trail just round the corner. The bears in the parks are not to be messed with so we only went as far as the lake shore and then headed back to the car!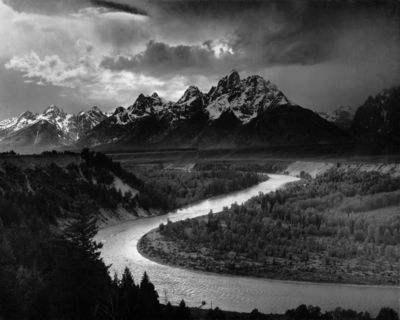 Before we left Grand Teton we headed up to the Snake River overlook where I tried to re-create the famous Ansel Adams photo as I am a big Ansel Adams fan!
We found the correct spot but unfortunately the trees in the foreground and on the river bank have grown a lot since the original photo was taken in 1942. I just about managed to frame the photo correctly (although I suspect Ansel was stood on top of his car where as I had to make do with the wall so wasn't quite high enough) but it doesn't have the same impact when the curves of the river can't be seen. You can see the original photograph to the left.
Yellowstone
We arrived at Yellowstone in the evening and checked into the Yellowstone Canyon Lodge. There are limited places to stay actually inside Yellowstone and the posher places are very expensive, so we had opted for the Canyon Lodge as it was comparatively cheap. The cabins were very basic and got quite cold on an evening but it was fine for me I'm not used to luxury anyway!
We spent the 8th and 9th in Yellowstone having allowed two full days to explore the park. I think two days was enough time to see all of the main sites but we didn't do that much walking, you could spend a lot longer there if you wanted to go on day hikes as well. Yellowstone is arranged in two circles which make a sort of figure-eight shape so we did half of the park on day and the other half the next day.
On the 8th we went to Mammoth Hot Springs, the Norris Geyser Basin and Artists Point as well as various small falls along the way.
Mammoth Hot Springs was fantastic. It is sort of a hillside with wooden board walks where the water has come down the hill and made various calcified structures in amazing colours. It was very hot and busy but great to see and made for some fantastic photographs.
The Norris Geyser Basin walk was also fantastic. This walk takes you in a big circle past various hot springs and mud pools where you can observe the geothermal activity coming to the surface.
On the 9th we headed around the second half aiming for Old Faithful. We saw all sorts of wildlife, it really is everywhere in Yellowstone compared to the other parks where you have to hunt to find it! We also saw a two bears although they were very far away, certainly too far away to photograph.
We had to see Old Faithful of course, I don't think you can go all that way to Yellowstone and not watch it go off! It erupts about every hour so of course we arrived about 10 minutes after it had gone off and had to sit there waiting for it to perform again! There are wooden benches arranged around the edge of the geyser so there is plenty of space to sit and wait although it fills up as the eruption approaches.
In the evening time the rain had just about held off so we went down to the Lower Falls which were spectacular.
Idaho
We then had to get from Yellowstone all the way to Yosemite in California which meant more long drives!
On the 10th we made it from Yellowstone to Winnemucca. Again we had planned to only head for Twin Falls but pushed on much further to save time.
The scenery was a bit more varied than the long drive across southern Wyoming but not by much to be honest! There were a lot of fruit fields though which were nicer than just the grass.
Bodie
On the 11th we continued to head south aiming for Lee Vining on the eastern side of Yosemite.
We had planned in advance that we were going to visit Bodie which is a historic ghost town just outside Lee Vining. I'm really glad we did this, Bodie for me was one of the main highlights of the holiday.
A gold mining town which was abandoned in the 1940s, it is now kept in a state of 'arrested decay' by the state parks service, meaning that they do only so much work to is as is needed to stop it falling down.
There are lots of buildings to see including people's houses but also larger buildings such as shops and hotels. Whilst you can't go into many of the buildings you can peer through the grimy windows and glimpse into the past as you take in the old jars and foodstuffs covered in a layer of fine dust. There are also old cars and mining machinery littered about the place.
Bodie is a dream for a photographer, there are so many different things to take pictures of. The main problem with the photography of course is trying to get shots without people in as it's a popular place to visit and tourists wandering down the streets somewhat ruins the 'ghost town' feel of the photos! With a little patience though it is possible.
Lee Vining
Once into Lee Vining we stayed at the Yosemite Gateway Lodge that evening which has views of Mono Lake. The hotel was nice and ideally located for us. We had a drive down to Mono Lake at sunset and then did a bit of washing!
Yosmite
On the 12th we spent the day in Yosemite, driving from Lee Vining through the park to the other side.
We had been here in 2005 on the second trip so it was nice to be back, Yosemite is a stunningly beautiful place and one of my favourite parks in the US.
We drove in past Tenaya Lake and Olmstead Point before spending some time in the valley floor. In the valley we headed for the Ansel Adams gallery which was smaller than I imagined but it was nice to see.
We then headed out along the Merced River and climbed up the long and winding road to Glacier Point. The view from Glacier Point is amazing as it looks out over the valley below and is an awfully long way down!
We then headed to Mariposa Grove to see some of the giant sequoia trees although it was going a little dark by that point.
We headed out of the park and stayed at the Cedar Lodge which is expensive because of its proximity to the park but is a nice hotel (just don't eat there!).
Heading to Hollywood
On the 13th we made our way out of Yosemite and down to Santa Clarita through Fresno and Bakersfield which pretty much took us the whole day.
On the 14th we headed to Calabasses which was to be our base for exploring Los Angeles. It was hard to work out where to stay in LA because it's a big place and there's a fine line between staying somewhere very expensive and ending up in the middle of some sort of gang neighbourhood!
On the 14th we explored Hollywood, I really enjoyed this because I love film but also we had spent a couple of weeks in the wilds before this point so it was nice to break it up by visiting a city.
We visited Hollywood Boulevard and took in the main sights there such as the Chinese Theatre. We also went into the Hollywood Museum where they had props to look at from many famous films such as Indiana Jones and Silence of the Lambs which was great fun.
We also tried to find a place to take a photo of the Hollywood sign from which is much harder than you might think as it's actually obscured from almost everywhere at street level! A tip if you're going - you need to head for the Griffith Observatory up on the hill as it's clearly visible from there.
Universal Studios
On the 15th we spent the whole day at Universal Studios. This was a great day out, we went on all the rides as well as taking in the studios tour which was the best bit. The queue for the tour took ages but you do get to see all sorts of old sets and vehicles as well as current production sets such as Wisteria Lane from Desperate Housewives.
There are also certain set pieces during the tour where things happen to the tour trolley such as water and fire effects, great fun! It's quite expensive to get in and they also sting you for the parking but I would highly recommend it. Again we did the whole thing in a day comfortably, I think the tickets let you in for two days but there isn't two days of things to do there unless you have kids who wanted to do it all twice.
On the morning of the 16th we decided to go on one of the many Hollywood tours since we had tried ourselves and didn't really know what we were looking at!
Vegas
After the tour we hit the road and drove out to Las Vegas. It's only a few hours from LA to Vegas so it was quite an easy day.
We had been to (or rather through) Vegas twice before so knew what to expect, I still don't like it really! I know some people love it but I just don't like it, it's extremely tacky and the whole place is just designed to make people haemorrhage money for a few days. You can't even put quarters in the slot machines any more it's all ticket based now!
We stayed at the Stratosphere but I didn't go up the needle as a little idiot by the lift told me I couldn't take my tripod up which I took umbrage at.
Zion
On the 17th we headed out of Vegas and started the southern parks section of the trip, first up was Zion National Park. Zion was nice but not as impressive as some of the bigger parks, it's quite a small one.
You can't drive round it so you jump on and off a bus that drives around the valley floor in circles.
Grand Canyon North Rim
On the 18th we first headed south to the north rim of the Grand Canyon. We had been to the south rim before but never the north rim.
The weather was really grey so it didn't make for any great photos but it was still nice to see it again. The north rim is much less touristy than the south rim so there isn't a lot there really, there also doesn't seem to be as many paths that let you actually wander down into the canyon as there are at the south rim.
Bryce Canyon
We then headed all the way back up the road to Bryce Canyon which is amazing and very photogenic; a valley full of strange rock formations which can walk right down into and frame up your photos however you like.
We were there for sunset and once the sun hit the canyon it took on a lovely yellow glow, it's definitely worth a visit if you're in that area!
Capitol Reef
On the 19th we made our way further East and visited Capitol Reef national park. There are a variety of things to look at in Capitol Reef, it has landscape but also some historic buildings and petroglyphs.
The weather had come in really quite badly and the park had been hit by flash floods. We saw some of the flood waters which had picked up a lot of the brown soil and looked like a river of chocolate! We also saw some cars which had been literally swept away by the waters.
We continued out from Captitol Reef through Green River and towards Arches National Park.
Arches National Park
We arrived in the evening at Arches National Park. Most people must have seen arches on their desktop wallpaper at some point or another, it's where the rock has formed giant, red stone arches in the landscape.
We were able to take some nice photos at sunset of the arches closer to the park entrance ready to return the next day.
On the 20th we went all the way into the park and walked around some of the harder to reach arches. The weather was scorching hot with no sign of the previous day's thunderstorms so it was a nice day.
Monument Valley, Mesa Verde and Great Sand Dunes
We headed out of Arches and down to Monument Valley which isn't a national or state park it's run by the Native American population…
I'll be honest now, do not go to Monument Valley unless you have some sort of proper 4x4 vehicle. They have paved only the first few meters of the road and then it disintegrates into a track. They claim it's only unsuitable for RVs but really it's only suitable for off road vehicles. We didn't even go all the way down the road as we were scared of properly breaking the car, it really is that bad! It's also not all that impressive to see to be honest and can mostly be seen without entering the park at all.
On the 21st we visited our final parks which were Mesa Verde and Great Sand Dunes. Mesa Verde houses some ancient cliff dwellings so is more about the history than the landscape.
Great Sand Dunes as you might imagine are some large sand dunes! There were people walking right up to the top of them but it was a bit hot and sandy for me, plus I imagine if you get to the top then there's pretty much just more dunes!
We made out way back over to Denver the next day through southern Colorado ready for home.